JANUARY 2007
The first full week of '07 involved multiple screenings of our dogme aught six short film, "Hoopla" at the Push Push Theater in Decatur, GA. "Hoopla" was shot in the late fall of 2006 and editing began immediately after our one day shoot. These were the first local screenings of all the Dailies Project dogme aught six films.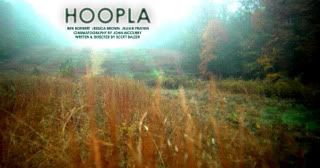 By mid Janaury a local short film showcase was finally hitting the local Atlanta airwaves on WPA 30 and our short film "The Idiot Boxer" was featured in the very first episode of Atlanta Shorts. The tail end of the month gave us some exciting news as The Signal not only screened at The Sundance Film Festival but was also scooped up and bought for distribution by Magnolia Pictures. The Signal is sci-fi horror love story shot entirely in Atlanta, GA consisting of Atlanta filmmakers and crew including us here at TEN-X FILMS; Scott Balzer (myself) and Damian Dunn. Ben Bornert and me worked on an experimental little short film involving dopple gangers chasing themselves. This was a rainy day in late January that simply involved me shooting Ben run around in a nearby forest. We weren't exactly sure what it was we were shooting but here is what became of it...
FEBRUARY 2007
Shot a pilot for Turner Classic Movies with Mike Brune, Stacy Schmitt and GSU Prof. Ted Friedman. Looking to get some interest by the network sometime in 2008.
Wrote and shot a short film entitled "2 29 09". This was for Maxwell Guberman's Dead of Winter screening featuring films with this theme. We shot this the night of the Super Bowl in the cold on top of a very familiar parking deck. The short was merely experimental and an exercise for my DP John McCurry, the actresses Jessica Brown and Laura Slade, and myself. I think its a cool looking short and am most proud of it.
I was determined to make a commercial parody of those Cingular Phone commercials featuring two idiots and a certain Clash song. I figured we could make the same commercial shot by shot but using a more fitting song. Here is the results...
MARCH 2007
We participated in the inaugural Atlanta Film Festival Rapid i Movement March 16-18. This was a make a short film in two days contest. We shot late into that Friday night and most of Saturday afternoon in the cold. During our last shots of the weekend did we come up with our short's title..."Chicks, Man".
After dealing with some editing problems I finally scrambled to my DP's home and used his computer to edit this short. I ended up driving like a maniac back down 85 into town to barely turn the film in time on Sunday night. I like the film and think the technical side looks amazing. We didnt get into the festival this time around but Im really happy with the directors cut...
APRIL 2007
Another short film of ours "The Cavalier" premiered on local TV on Atlanta Shorts. "The Idiot Boxer" screened in Toronto Canada as part of the first annual Slackers Film Festival.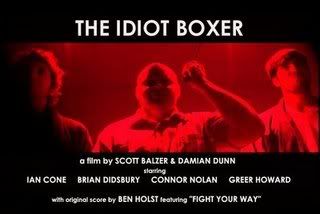 And finally trailers for "Hoopla" and "Chicks, Man" arrive on youtube.com. This begins the Ten-X Films YouTube.com webpage. "Hoopla" trailer...
MAY 2007
We moved forward with making our next short film for the Dailies Project Catme. This was meant to be a counter attempt to dogme aught six by filmmakers. We soon began writing the idea. The process was fun going back and forth between myself and Dunn and figuring out what kind of story we wanted to tell using the Catme guidlines otherwise known as "spectigimmick". By months end casting began and we soon had our leading ladies for the film. Principal photography officially began during the casting session.
JUNE 2007
Shooting of our Catme film continued throughout the month as the short film involved a few different locations and availability from actors, the DP and ourselves was something we worked with constantly. Editing of the short began near mid June and would go through many revisions to come.
JULY 2007
Wrapped shooting our short film which was finally entitled, "Ms. Leading". Editing and more editing continues pending a late August early September screening date. Both me and Dunn helped our friend Mike Brune shoot his short film, "The Adventure" during July 30-31. Trailer for "The Adventure" here...
AUGUST 2007
Our short film "Hoopla" screened at the Atlanta Underground Film Festival. This was the 2nd straight year one of our shorts screened in this local fest. "The Idiot Boxer" screened in 2006. Late August brought us to the screening dates for our Dailies Catme film at The Push Push Theater. 2 Posters soon show up online for the short.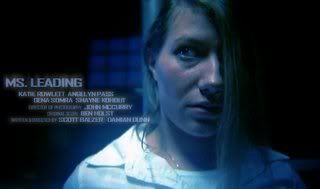 SEPTEMBER 2007
Two new trailers for "Ms. Leading" show up on our Ten X Films YouTube page.
Here is one of them...
OCTOBER 2007
"Hoopla" screens in Athens, GA for its 2nd festival appearance at the Dixie Film Festival. The short looked mazing projected onto a large movie theater screen. Thank you digital projection!
NOVEMBER 2007
We participated in the 2nd Annual Rapid i Movement as part of the Atlanta Film Fest. Using a cast of actors/ improvisors to make a short film was one of the goals for us this time around. The second was to win the one of four audience votes and have our short film be officially accepted into the 2008 Atlanta Film Festival in April. Well guess what? We did both. The collaboration, shoot and post production (editing) went extremely well and we turned out what is now known as "Tibbets' Trust". And it will soon be available to watch on Comcast OnDemand in the Atlanta area but also will be playing during the Festival next April. Soon after our small victory a trailer for the film was online for all to see. "Chicks, Man" appears on local TV on Atlanta's short film showcase Atlanta Shorts. "Tibbets Trust" trailer...
DECEMBER 2007
Our short film "Tibbets' Trust" is available online till January 11. The cast and crew screening party went over very well as everyone seemed to enjoy the new extended version nearly doubling the original cut at now 13 minutes. Folks also seemed to get a kick out of the many bloopers and unused takes featured that evening. By the holidays got word that a new trailer and official release date for The Signal was unvailed for February 22, 2008. Signal trailer...
COMING IN 2008???
Look for a new and repeat episodes of Atlanta Shorts featuring some of our work.
We might participate in the Rapid i Movement again this Feb/March.
Get some interest in our pilot we shot last February for TCM.
More short films and maybe a feature.
Happy New Year from Ten-X Films!